AG0 / SR521 / LR521 / 379 /SR521SW EUNICELL BATTERY1.5V ALKALINE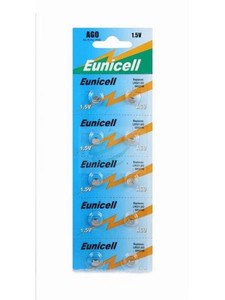 ---
AG0, 379, 618, 1191SO, 280-59, 379L, AWI, Berec B379L, Bulova 618, Citizen 280-59, D 379, D379, D379B, Duracell D379, Eveready 379, GP379, IEC SR63, JA, LR521, Maxell SR521SW, NEDA 1191SO, Panasonic SP379, R 379, Rayovac 379, Renata 50, 327, S521S, S56 RW, SB-AC/DC, SB - DC, Seiko SB - AC, SG521, SG - 521 S, SP379, SR 521 SW, SR 63, SR/TR521SW, SR521, SR521SW SR63, SR632, SR632SW, JA, Toshiba SR521SW, V379, Varta V379 Timex.

This battery provides a long shelf life for backup energy capacity with resistance the ideal temperature and the possibility of higher storage.

Other names:

AG0,379,618,1191SO,280 59379L,AWI,Berec B379L,Bulova 618Citizen 280-59.D 379,D379,D379B,Duracell D379,Eveready 379,GP379,IEC SR63,yes,LR521,Maxell SR521SW,NEDA 1191SO,Panasonic SP379,R 379,Rayovac 379,Renata 50,RW 327,S521S,S56,SB-AC / DC,SB-DC,Seiko SB-AC,SG521,SG - 521 S,SP379,521 SW SR,SR 63,SR/TR521SW,SR521,SR521SW,SR63,SR632,SR632SW,Timex JA,Toshiba SR521SW,V379,VARTA V379.

It is commonly used in:

CalculatorsClockswatches,computers,cameras,digital cameras,PDA,remote controls,Camcorders,Electronic games,instruments,MP3 players,voice recorders,toys,Glucose sensor,Cholesterol Tester,and other electronic products ...
WE PROMISE YOU WON'T BE DISAPPOINTED :)
!!! THANKS FOR LOOKING !!!