Malossi Scooter Bike Sticker Pack. Bargain bundle.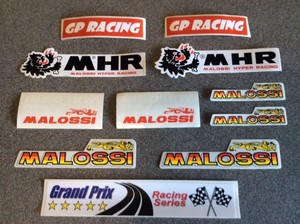 ---
Here we have a pack of mixed stickers to fit your ped, scooter, bike or even furniture!!!!!!! 
Honda, Suzuki, Kawasaki, Aprilia, Piaggio, Gilera, Peugeot, Lexmoto, Direct Bikes,  whatever.
As cheap as they come. Bumper pack of mixed stickers to cover scratches/ custom.
Great value, Great quality.
Hundreds of happy customers have bought these.... (See our Feedback) You will not be disappointed.
Please see our other listings for even more stickers, Mix and Match if you like!
FREEPOST TOO!