PREMIUM HDMI CABLE v2.0 HD FAST 4K 3D LEAD 0.5M/1M/1.5M/2M/3M/5M/10M/15M/20M/30M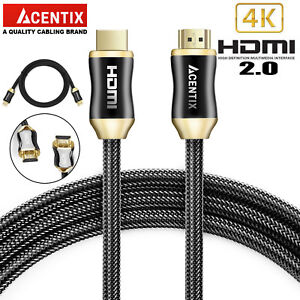 ---
Acentix® is the premier brand for professional grade cabling offering unrivaled imagery using the latest technologies. All Acentix branded products are manufactured to the highest engineering standards and have been professionally approved to offer unbeatable quality and value.

High Speed HDMI Cable V2.0/1.4a 18Gbps Suitable For 3D TV 2160p PS4 SKY HD 4K@60hz Ultra HD Ethernet Audio Virgin BT PC Laptop Nylon Braided - 0.5M - 30M - ACENTIX LUXURY GOLD PLATED 

EXCEPTIONAL QUALITY best quality cable available in the market with Version 2.0/v1.4a,3D Technology and Audio return(ARC)/CAT-2 HDMI Cable(Full 1080p/2160p approved) Perfect for both high definition video and standard video formats. Supports True HD Dolby 7.1 and DTS-HD Master Audio ACENTIX® HDMI cable is constructed using the highest quality material available for the best contact connection between HDMI equipment. Available in different lengths. ACENTIX® LUXURY GOLD premium high-performance HDMI to HDMI cable with full v2.0 specifications. This cable has been manufactured to ensure maximum transfer rates with absolutely no loss of data and designed to meet hi-speed connections for next-generation devices such as Blu-Ray, 3D HDTV, Virgin Media, Sky TV, Projectors, 24p True Cinema, XBOX 360, PS3, PS4, XBOX ONE and supports future devices with resolutions of 4k x 2k.
| | |
| --- | --- |
| 24k Gold-Plated Connectors 28AWG Oxygen-free copper Compliance: HDCP, HDMI Authority, RoHS HDMI Version: v2.0 and 100% backwards compatible with HDMI v1.1, v1.2, v1.3 AND v1.4 ,1.4a Data Resolution: 4096 x 2160p Ultra HD / Dual Stream 1080p 3D 18 Gbps bandwidth Audio return channel (ARC) 3D over HDMI support HDMI ethernet channel Dual-stream 1080p 3D Support Dolby® TrueHD and DTS-HD lossless surround sound support Triple-layer superior shielding from EMI / RF with Zinc alloy shellSuitable for wall installation. |        ACENTIX® HDMI Supports 4K@60hz, (2160p), 4 times the clarity of 1080p/60 video resolution,10 bit Color, HDR10 and full 4:4:4 chroma. ACENTIX® Smooth transmission of extreme HD resolutions up to 4096 x 2160 @60hz ,Naturally lower resolutions are also supported. Up to 32 audio channels Simultaneous delivery of dual video streams to multiple users on the same screen Support for the wide angle theatrical 21:9 video Simultaneous delivery of multi-stream audio to multiple users (up to 4) NOTE:Supports 4K@60Hz - Upto 10M sizes (Including 10M) Supports 4K@30Hz- Above 10M Sizes. |
| | |
| --- | --- |
| Please select the length required | Lifetime Warranty |