PREMIUM HDMI Cable v2.0 0.5M/1M/1.5M/2M-10M High Speed 4K UltraHD 2160p 3D Lead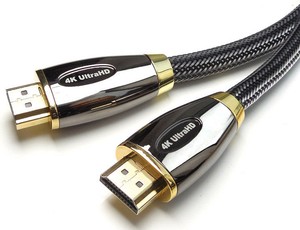 ---
Menu Home All Categories   HDMI Cables & Adapters Optical Audio Cables FireWire Adapters & Cables Networking Apple Mac Cables/Adapters HDMI Switch Hub Audio/Stereo Cables/Adapters About Us Payment Delivery Returns Policy FAQs Contact Us Terms & Conditions

SAME DAY DISPATCH Monday to Friday 9am to 1pm

SIGN UP TO OUR NEWSLETTER Stay up to date with our special offers

FREE UK DELIVERY More details

Our Categories

Masks / Fancy DressAerials/Satellite/CommsStereo Audio AUX/PHONOUSB Cables/AdaptersBaby Corner ProtectorsHDMI Switch/MatrixMobile Phone AccessoriesOtherApple Cables/AdaptersNetworkingOptical TOSLink Cables

PREMIUM HDMI Cable v2.0 0.5M/1M/1.5M/2M-10M High Speed 4K UltraHD 2160p 3D Lead

Buy it now Watch this item Description Reviews Payment Delivery Returns Description Premium v2.0 high-performance HDMI to HDMI cable with full v2.0 specifications. Manufactured to ensure maximum transfer rates with absolutely no loss of data and designed to meet hi-speed connections for next-generation devices such as Blu-Ray, 3D HDTV, Virgin Media, Sky TV, Projectors, 24p True Cinema, XBOX 360, PS3, PS4, XBOX One and supports future devices with resolutions of 4k x 2k. The cable's construction features precise engineering with a die-cast metal headshell and 24k gold contacts. High-grade 28 AWG oxygen-free, shielded with a triple-layered aluminised Mylar foil for interference-free connections. With this cable, next-generation devices that support HDMI v2.0 will be able to transfer and receive picture reolutions of up 4096 x 2160p (Ultra HD) or dual streams of 1080p for 3D TV. HDMI v2.0 includes support for ethernet to allow for direct internet connectivity without the requirement for extra cables to your TV.

 

PRODUCT DESCRIPTION

Premium v2.0 high-performance HDMI to HDMI cable with full v2.0 specifications. Manufactured to ensure maximum transfer rates with absolutely no loss of data and designed to meet hi-speed connections for next-generation devices such as Blu-Ray, 3D HDTV, Virgin Media, Sky TV, Projectors, 24p True Cinema, XBOX 360, PS3, PS4, XBOX One and supports future devices with resolutions of 4k x 2k.

The cable's construction features precise engineering with a die-cast metal headshell and 24k gold contacts. High-grade 28 AWG oxygen-free, shielded with a triple-layered aluminised Mylar foil for interference-free connections.

With this cable, next-generation devices that support HDMI v2.0 will be able to transfer and receive picture reolutions of up 4096 x 2160p (Ultra HD) or dual streams of 1080p for 3D TV. HDMI v2.0 includes support for ethernet to allow for direct internet connectivity without the requirement for extra cables to your TV.

HDMI cables over 15m may require a HDMI booster depending on the signal strength from your output device. Check first before ordering.

 

Turn On To High Definition HDMI

 

 

Wire Gauge: 28AWG oxygen-free copper Connectors: 24k Gold-Plated HDMI male to male Compliance: HDCP, HDMI Authority, RoHS 18 Gbps bandwidth HDMI Version: v2.0 and 100% backwards compatible with HDMI v1.1, v1.2, v1.3 and v1.4 Data Resolution: 4096 x 2160p Ultra HD / Dual Stream 1080p 3D Protective dust caps Supports all v2.0 features Audio return channel 3D over HDMI support 4k x 2k resolution support HDMI ethernet channel Dual-stream 1080p 3D Support Dolby® TrueHD and DTS-HD lossless surround sound support Triple-layer superior shielding from EMI / RF 100% backwards compatibility with HDMI v1.1, v1.2, v1.3 and v1.4 100% compatibility with all HDMI HDTVs and HDMI devices Highly attractive gold-coloured zinc alloy shell 12 months warranty

 

All images and text are own by copyright © Akord Technologies Ltd. Any duplication will be reported to the VERO team.

Reviews
| | | | |
| --- | --- | --- | --- |
|   | Feedback/item | From Buyer | Date/time |
| | Excellent value fast delivery PREMIUM HDMI Cable v2.0 0.5M/1M/1.5M/2M-10M High Speed 4K UltraHD 2160p 3D Lead | simondav68 (143) | 22/03/2018 |
| | Very good. Thanks 2 Metre PREMIUM HDMI Cable v2.0 LATEST HD High Speed 4K UltraHD 2160p 3D Lead | 2012arfan123 (108) | 22/03/2018 |
| | Thanks PREMIUM HDMI Cable v2.0 0.5M/1M/1.5M/2M-10M High Speed 4K UltraHD 2160p 3D Lead | ushe1622 (223) | 22/03/2018 |
| | Speedy delivery Great item Many Thanks AA++ 2m OPTICAL CABLE DIGITAL AUDIO Lead TOSLink SPDIF SKY DTS SURROUND SOUND Metre | dangermouse1070 (1816) | 22/03/2018 |
| | Thanks 2m OPTICAL CABLE DIGITAL AUDIO Lead TOSLink SPDIF SKY DTS SURROUND SOUND Metre | ushe1622 (223) | 22/03/2018 |
Payment Payment text... Delivery Delivery text... Returns Returns text...

You might be interested in:

AKORD 300 Mbps Wireless PCI Network Adapter View item Liroyal The Amazing Happy Birthday Music Candle Novelty Blooming Lotus Flower Party Lighting Decoration (Blue) View item Long Luggage Packing Belt Suitcase Strap Safety Strap View item Rally of arm strength Yoga elastic belt,red View item leading-star 10Pcs Bow Wire Stitch Insert Sewing Machines Needle Threader

£2.99

View item Niceday Economy Packaging Tape Clear 50mm x 66m Pack of 36 View item

Newsletter

Get the latest Offers directly to your inbox!

Sign Up

Secure Payment by

Delivery by

Home About us Payment Delivery Returns Policy FAQs Contact Us Terms & Conditions

About Us

Retailer of high-end HDMI and digital optical cables.