Pile bouton renata ed 2021 de 301 a 399 RENATA 301,303,309,315,317,315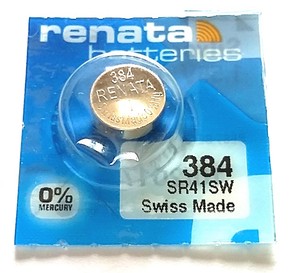 ---
Type: Pile Bouton

1,55v

 RENATA

DLC 2020-2021

technologie: Oxyde d'argent

Nous travaillons avec   RENATA SUISSE

We work with RENATA SWITZERLAND

Nous restons à votre entière disposition pour tout éclaircissement que vous pourriez souhaiter. If you have any questions, please do not hesitate to contact us. pffrancesarl@sfr.fr Votre conseiller clientèle reste à votre entière disposition pour tout renseignement complémentaire. If you are interested in this process, your client advisor will be pleased to assist. pour les clients français (french spoken) Maria ou Fabien, tel: 03 88 86 15 12 pour les clients étranger (english and german spoken) Petra, tel: 0388861512 SAV (réclamations) au sujet de votre commande Fabien, tel: 0618534727 Horaires d'ouverture : Le lundi de8h30 à 17h30 Le mardi de 8h30 à 17h30 Le mercredi de 8h30 à 17h30 Le jeudi de 8h00 à 17h30 Le vendredi de 8h00 à 17h30 Le samedi de 9h à 16h Le dimanche matin de 9h à 11h Délai de livraison : 2-4 jours (courrier simple - lettre verte) 1-2 jours (lettre suivi) selon votre choix - après le paiement- sauf cas de force majeure.